Chronicle of Saturday and last day of the Legends of Rock 2023 festival.
Dragonfly
Dragonfly is one of the most outstanding melodic metal bands in Spanish, with a history of more than 20 years and an international presence. His latest work, Alma Irae, is a sample of his musical maturity and his ability to create songs that combine power, melody and feeling. The album has the participation of luxury guests, such as Jose and Mohamed from Mago de Oz and Miguel Roldán from Logos, who contribute their talent and personality to some songs. The band is made up of experienced and virtuoso musicians, who complement each other perfectly. The voice of Pablo Solano stands out especially, which has an impressive register and a unique expressiveness. Without a doubt, Dragonfly is one of the best proposals of current national heavy metal.
Angus McSix
The power metal band Angus McSix led by vocalist Thomas Winkler and guitarist Sebastian Levermann gave a show that surprised everyone, especially those who had never seen this group live.
They played the songs from their debut album Angus McSix and the Sword of Power, a conceptual work that narrates the adventures of a medieval hero who must defend his kingdom from the forces of evil.
The show was full of surprises and special effects, such as the appearance of a goblin who tried to steal the magical sword Sixcalibur, or that of a dancing dinosaur in the theme "Laser Shooting Dinosaur". Fans enjoyed songs like "Sixcalibur", "Laser Shooting Dinosaur" or "Master of the Universe", which demonstrated the musical quality and originality of Angus McSix's proposal.
AVALANCH
Avalanch appeared before an expectant audience to see the performance of the mythical Spanish band with its new vocalist, José Pardial. Alberto Rionda and his companions demonstrated their quality and passion with a show full of emotion where Pardial's voice would win the favor of most of the attendees.
His setlist would be made up mainly of his songs from Ramón Lage's stage such as "Pies De Barro", "Niño" or "Lucero" that were heating up the atmosphere for the final stretch of the concert. "Xana" would be welcomed with applause and chanted by the crowd, which created a very special moment on stage. Next, the powerful "Torquemada" swept everything and put the final point to a performance where José Pardial established himself as an excellent leader for the group.
Hämatom
German metal band that originated in 2004 in Speichersdorf, Franconia. His musical style is inspired by the Neue Deutsche Härte and combines sound and visual elements. Band members identify with the four cardinal points and wear elaborate masks.
They presented their latest work, 'Lang lebe der Hass ', published last year. Among the songs they performed, some stood out such as "Behind The Mask", and they also surprised us with a very original and fun version, sung entirely in Spanish, of the "Canción del mariachi strong>" by Antonio Banderas and Los Lobos.
Very funny, very good on stage and they managed to win over the public.
Virgin Steele
Virgin Steele gave a live performance full of energy and passion, showing why they are one of the most iconic bands in American power metal. Its vocalist, David Defeis, displayed all his power and charisma, making the audience vibrate with his characteristic screams and roars.
Although time was limited, they left 10 minutes late, the band did not disappoint and reviewed some of their most classic songs, such as "Dust From The Burning" or "Invictus", which sounded like true hymns under the Villena sky. The only drawback was the absence of his famous flaming sword, which usually accompanies his concerts. However, that didn't stop "Kingdom Of The Fearless" from being the finishing touch to a memorable show.
Hammerfall
HammerFall is one of the most emblematic bands of Swedish Heavy Metal and Power Metal, founded in 1993 in the city of Gothenburg. Their style is based on the classic Heavy Metal of the 80s, with influences from bands like Judas Priest, Iron Maiden or Helloween. His lyrics are inspired by medieval times, the Knights Templar and Norse mythology, creating an epic and fantastic universe.
The band has participated several times in the festival, always leaving an indelible mark on its followers. On this occasion, HammerFall came on stage with "Brotherhood", a song that sums up their spirit of brotherhood and passion for metal. The audience responded enthusiastically, singing along to each chorus and pumping their fists in the air. The party continued with "Any Means Necessary", a hymn of resistance and rebellion that made the crowd vibrate.
Vocalist Joacim Cans once again demonstrated his charisma and his connection with the fans, encouraging them to sing, jump and enjoy the show. His powerful and melodic voice perfectly adapted to each song, from the fastest and most aggressive to the slowest and most emotional. The band also showed their reliability and their rapport, executing every riff, solo and rhythmic base with precision and energy. HammerFall is a band that knows what they are doing, and they do it well.
The repertoire was a review of their entire career, from classics like "Crimson Thunder" to mythical songs like "Let The Hammer Fall". The band did not forget any of their hits, such as " Glory to the Brave", "(We Make) Sweden Rock" or "Hectors Hymn". Each song was received with a standing ovation by the audience, which did not stop moving for a second. HammerFall managed to create an atmosphere of euphoria and communion among metal lovers.
The pinnacle moment came with "Hearts On Fire", the band's most iconic song and one of the most beloved by fans. The refrain became a gigantic chorus, which echoed throughout the venue. It was the finishing touch to a memorable concert, which showed that HammerFall is still one of the most important bands in the genre. The public said goodbye with applause and shouts of thanks, while the band left with a satisfied smile.
Michael Schenker
Michael Schenker is a benchmark of hard rock and heavy metal, with a career spanning more than five decades and several legendary bands such as UFO , Scorpions and Michael Schenker. Group.
His live performance was a real gift for the fans, who enjoyed a repertoire loaded with UFO classics, performed with mastery and passion. The German guitarist had the collaboration of Robin McAuley, his faithful squire and co-founder of the Michael Schenker Group, who was in charge of providing vocals for songs like "Doctor Doctor", "Shoot Shoot" or "Let It Roll", which were chanted by the dedicated audience.The final touch was put on by the unforgettable "Rock Bottom", which, although overextended, demonstrated Schenker's skill and virtuosity on the six strings. It was an impeccable performance that made the main stage vibrate and paid tribute to one of the most influential bands in the genre.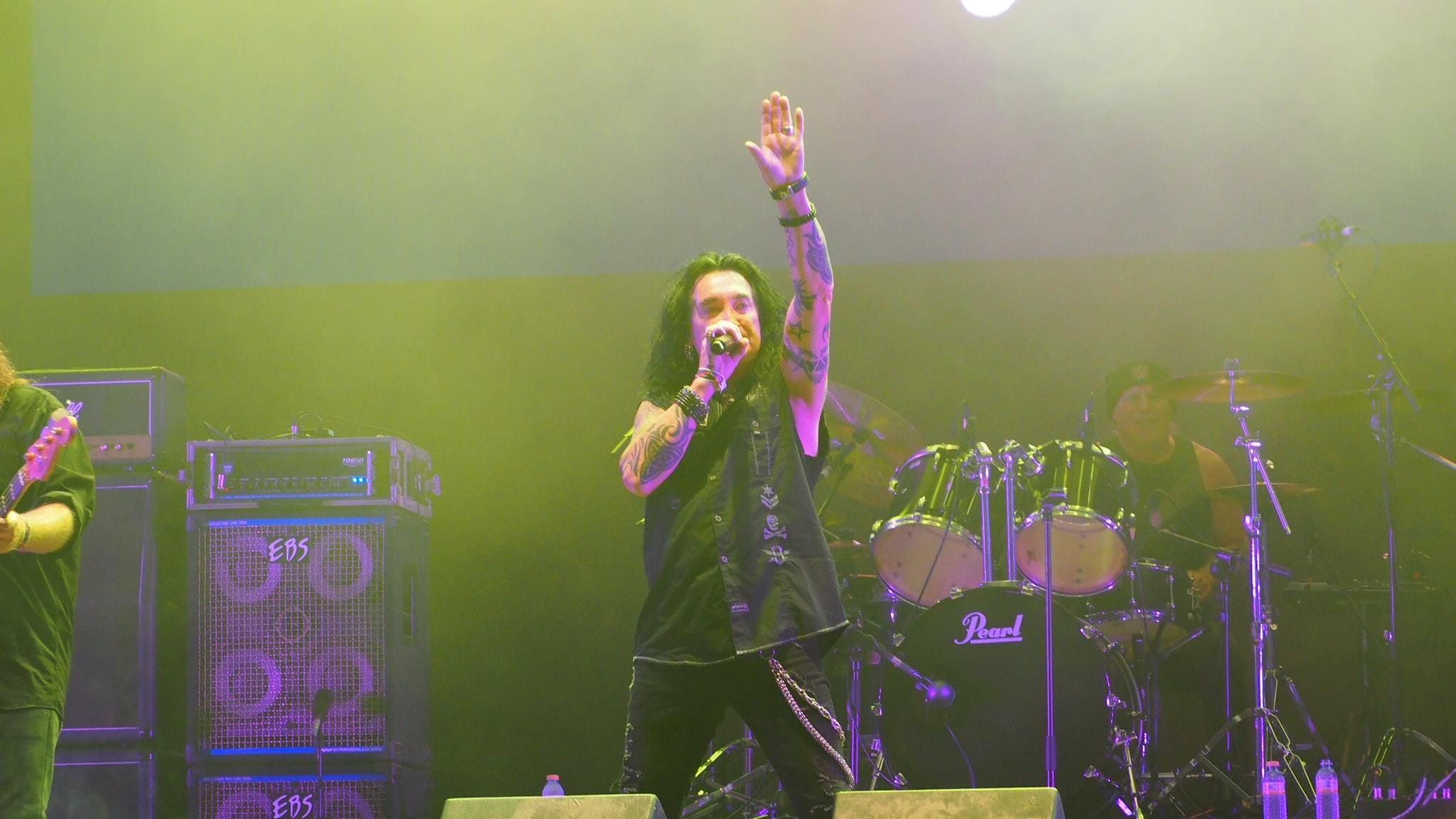 Michael Schenker performance Legends of Rock 2023
Michael Schenker performance Legends of Rock 2023